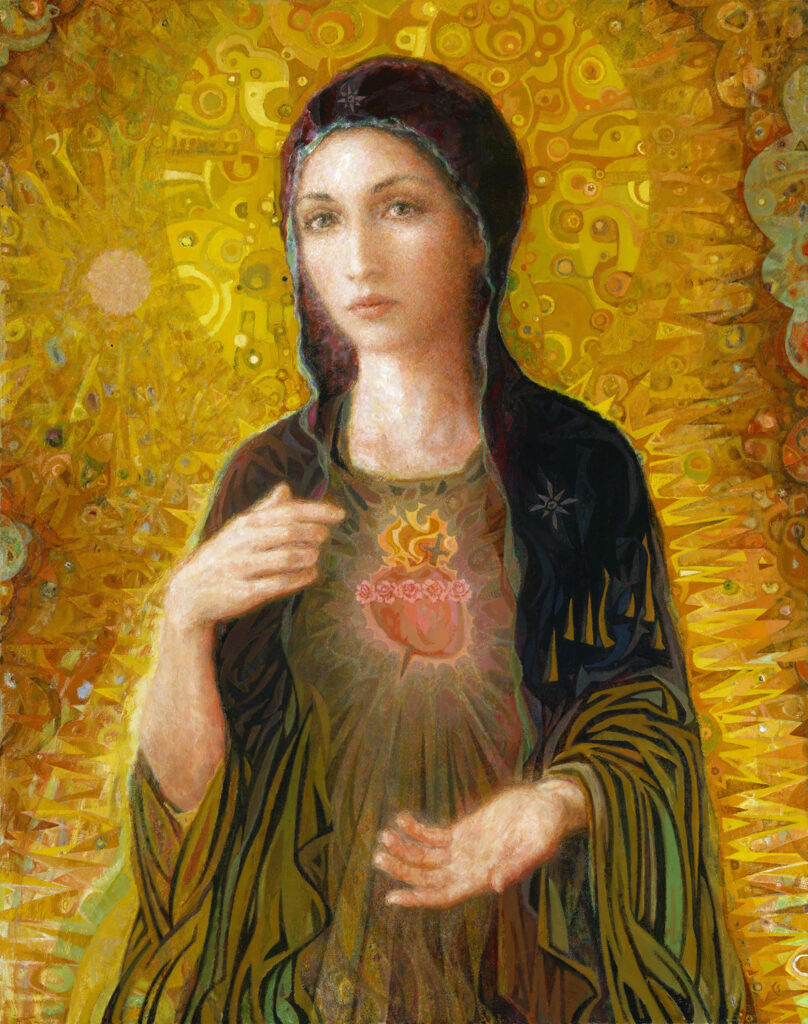 If you are curious about Consecration to Mary, this is a detailed series of my experiences and what it took for me to make this consecration decision and what it has been about for me.
The Path to My Consecration to Mary
Two major events have occurred in my life since the spring of 2012 and all involve the Virgin Mary and they led to my Consecration to her. 
First, in 2012, I started having spiritual experiences involving the Blessed Virgin Mary when I began to pray the Rosary on a daily basis.  
Second, I had a widow maker heart attack on a golf course and died in June of 2017.  
All has been an incredible experience.
Prior to joining the catholic church in 2019, I consecrated myself to the Immaculate heart of Mary. I was still protestant at this time with a strong relationship to the Blessed Virgin.
My Consecration to Mary involved courage, trust, love, and devotion, and it took faith to make the first step in the consecration process. In my opinion, these things played a significant part in my decision.  I could not have done it if I had lacked any one of them.
Not only have I received great life-changing miracles where Our Lady was involved, but I have also been given more answered prayer than in my entire 52 years combined. Very great miracles, some involving life-threatening issues I never dreamed I would ever experience, I have been granted. Also, I have also been given many everyday blessings and daily joys and I have received life more abundantly, indeed.
I am not a priest nor am I a theologian or a clergyman; nothing of that sort. All I am is an ordinary person who happened to stumble across Our Lady one day in my time of need. What she has given me is priceless. If you make this same decision and acquire devotion to the Blessed Mother, you will find out I am telling you the truth, and as Jesus stated, you will have life more abundantly also.
Padre Pio Once Said …
Some people are so foolish that they think they can go through life without the help of the Blessed Mother. Love the Madonna and pray the Rosary, for her Rosary is the weapon against the evils of the world today. All graces given by God pass through the Blessed Mother.
This is invaluable advice.
Almost all spiritual experiences I have had since 2012 have involved the Blessed Virgin Mary. She was involved in every miracle I have experienced, blessings I received, and just about every day has been filled with a joy of some kind that was not available before.
Long before I knew what Consecration was, I began praying the Rosary out of my own accord, and I experienced the Odor of Sanctification one morning in my bathroom.  It was the beginning of a long journey with Our Lady and led to the relationship I have with her today.
It took three years for me to decide to consecrate myself to the Immaculate Heart of Mary.  Three years-time, to make one decision is an indication of the importance I placed on this decision.  To me, this was to be a commitment for the remainder of my life.  For me, it is not an entrustment but a commitment to be lived out every day. 
One of the significant turning points in the relationship was my Consecration to Mary.  I will explain as best I can what Marian Consecration is, what was involved in accomplishing it and how it has affected me.  Again, it is the best decision I have ever made as it will also be for you if you choose to make it.
I want to Share my experiences
Consecration to Mary is of utmost importance, and it is my desire to share my experiences and some of the obstacles that I encountered with those who wish to read it. I hope and pray that what I have assembled will be of help to someone who wishes to understand more about this wonderful topic and experiences in the consecration process.
Our Lady's characteristics
I have included the following list of words that describe Our Lady's demeanor and actions based on my experiences.  The word extremely should precede every word in this list.
The words that describe her are respectful, gentle, loving, kind,  patient, determined, attentive, advocate (opposite of accuser), defender, and leader. 
I have not seen anyone that possesses and demonstrates there characteristics to the degree that she does.
Many thanks to Cameron Smith for use of his beautiful painting "Immaculate Heart of Mary" at  SmithCatholicArt.com
A very good video explaining the consecration to Mary and what it means.
True Devotion to Mary - St. Louis de Montfort
If you haven't read or seen the works by Louis de Montfort and wish to do so, they can be accessed below.
You Cannot Love someone you do not know.
You Cannot totally give yourself to Someone you do not Love.
There are two works from St. Louis de Montfort that are worthy of anyone's attention interested in the Consecration to Mary. They are True Devotion to Mary and the Secret of Mary.
Consecration is a journey. 

Thank You for Visiting our Site
We strive to provide the most complete and highest quality material we can for you, our readers.  Although not perfect,  
it is our desire and prayer that you benefit from our efforts.