The Virgin Mary, Alcohol Abuse, A Widow Maker, and Open Heart Surgery
Widow maker heart attack June 11, 2017. That is me on the ventilator post heart attack. You never know. This occurred in a split second. There were no warnings and no pain.
My name is Charles Rogers.  I am from Darlington SC in the United States. In 2012, I began having some of the most unimaginable spiritual encounters with the Virgin Mary  after reading a book titled Our Lady of Kibeho.  It was then that I started praying the Holy Rosary, daily, out of my own accord. 
A week later, an unexpected visitor came and surrounded me with a heavy, heavy smell of Roses as I was preparing for work.  Unaware at the time of who this visitor was, this was the beginning of an extraordinary journey that I aptly call "The Experience of a Lifetime".  I have truly been given some incredible life-changing and very moving and overwhelming experiences.  You will find out as I have that "You just can't make this stuff up".
For over 30 years I was a heavy drinker, and it got to the point where I could not quit, although I always thought that I could.   I would try and to the best of my abilities, but I could not break the habit.  I could not even make it through a single day as when I set aside a day to start to break the habit; the pressure would just keep growing and growing until I caved.  
At the time, I thought I was living the "dream".  I had a great wife and family and lived in the most prominent area in town.  I had a great job.  My work was fun everyday.  I worked for one of the greatest companies if not the greatest company as a computer programmer and have been employed by them twenty years from their conception to the major steel producer in the United States.  What else did I need?
And yet I was trapped.
Sometimes what we think is reality, simply is not.
I am a survivor of a widow maker heart attack that occurred in 2017 on a golf course near my home. There was no warning and no pain; you just never know. 
The doctor on call at the time, who is currently my cardiologist, said to me later when I came to, that my Left Anterior Descending (LAD) artery was 98 percent closed off, giving me a 2 percent chance of survival, hence, the name for this website. 
Below are pictures of my LAD before and after the balloon was applied.  Look for the arrows.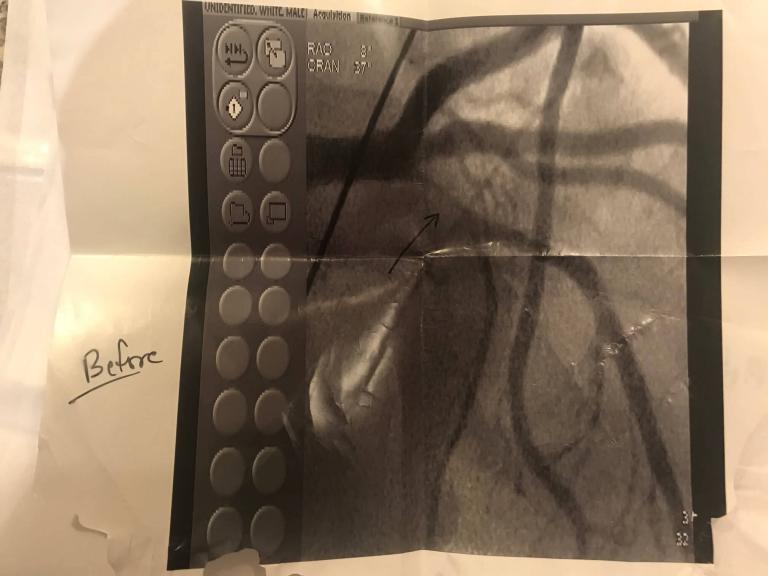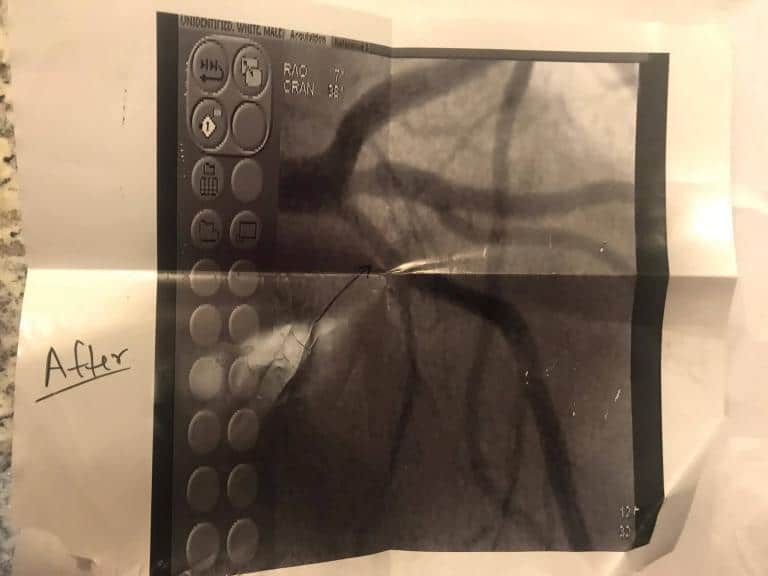 I had to have open-heart surgery as a result of that heart attack.  The open-heart surgery was a single bypass procedure, but it was enough for me.  An artery found behind the heart was used, so I was fortunate because otherwise, the surgeon would have had to use a vein which has no sideways expansion.  
I have recovered completely.
My Greatest Blessing, the Virgin Mary
My saving grace has been the Virgin Mary, to whom this site is dedicated.  I would not be here today if it were not for her love and guidance, as you will find out if you read A Catholic Conversion – My Marian Journey into the Church. 
I was protestant up until 2019, and I actually consecrated myself to her earlier in that year, so religious denomination meant nothing to her in my opinion.   She has been there from the very beginning in 2012.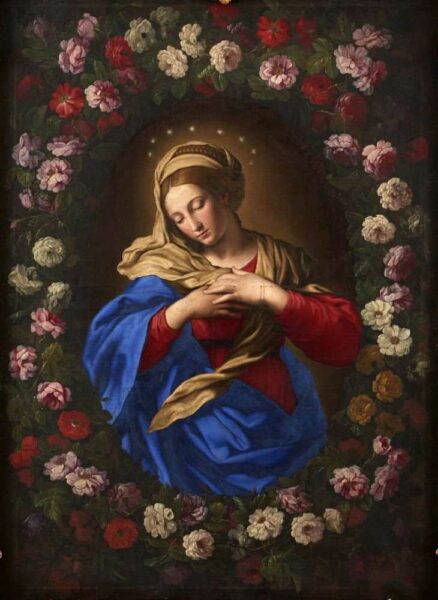 Other Topics on This Site ...
The Rosary is the backbone prayer of the Catholic Faith, given by the Virgin Mary, to be used on a daily basis.  If you have never prayed it or have stopped and would like to pick it up again, there is a section on it involving How to Pray the Rosary , the 15 Promises of the Rosary and, of course, the Mysteries (the Joyful Mysteries, the Sorrowful Mysteries, The Glorious Mysteries and the Luminous Mysteries). 
I believe it to be one of the greatest prayers I have come across and it has become the cornerstone of my prayer life.
Our Lady of La Salette is an account given by Melanie Calvat and Maximum Giraud of an apparition in France in the year 1846.  It discusses the events and condition of the church at what appears to be the end of the age.
George Washington's Vision at Valley Forge
The account of George Washington's Vision at Valley Forge in 1777, given by Anthony Sherman to Wesley Bradshaw, of a woman who appeared to him and gave a glimpse of the future conflicts of his country, the United States of America, that was not even in existence at the time of the vision.

Thank You for Visiting our Site
We strive to provide the most complete and highest quality material we can for you, our readers.  Although not perfect,  
it is our desire and prayer that you benefit from our efforts…