The Carrying of the Cross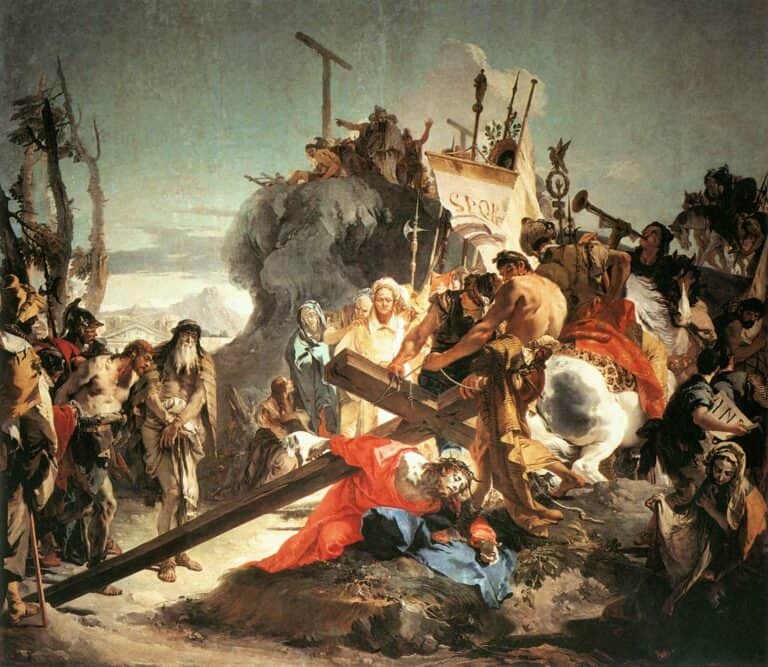 The Carrying of the Cross is the fourth decade of the Sorrowful Mysteries of the Rosary, one of the most powerful prayers given to us from above.  It is when Jesus can no longer Carry his Cross and has to be helped.  Simon of Cyrene is pulled from the crowd to carry it for the Lord. 
And as they led him away, they laid hold of one Simon of Cyrene, coming from the country; and they laid the cross on him to carry after Jesus.
And there followed him a great multitude of people, and of women, who bewailed and lamented him.
But Jesus turning to them, said: Daughters of Jerusalem, weep not over me; but weep for yourselves, and for your children. For behold, the days shall come, wherein they will say: Blessed are the barren, and the wombs that have not borne, and the paps that have not given suck. Then shall they begin to say to the mountains: Fall upon us; and to the hills: Cover us. For if in the green wood they do these things, what shall be done in the dry?
And there were also two other malefactors led with him to be put to death. And when they were come to the place which is called Calvary, they crucified him there; and the robbers, one on the right hand, and the other on the left.
Decade Prayers of the Carrying of the Cross
Our Father, who art in heaven, hallowed be Thy name; Thy kingdom come; Thy will be done on earth as it is in heaven. Give us this day our daily bread; and forgive us our trespasses as we forgive those who trespass against us; and lead us not into temptation; but deliver us from evil. Amen
Repeat 10 Times
Hail Mary, full of grace, the Lord is with thee; blessed art thou among women, and blessed is the fruit of thy womb, Jesus. Holy Mary, Mother of God, pray for us sinners, now and at the hour of our death. Amen.
Glory be to the Father, and to the Son, and to the Holy Spirit. As it was in the beginning, is now, and ever shall be, world without end. Amen.
O my Jesus, forgive us our sins, save us from the fires of hell, lead all souls to Heaven, especially those who have most need of your mercy.  Amen.
If you are using the liturgical form of the Rosary, read all of the scriptures.
If you are new to the Rosary, you can visit our page, How to Pray the Rosary to get an explanation of the structure of this powerful prayer.

Thank You for Visiting our Site
We strive to provide the most complete and highest quality material we can for you, our readers.  Although not perfect,  
it is our desire and prayer that you benefit from our efforts.